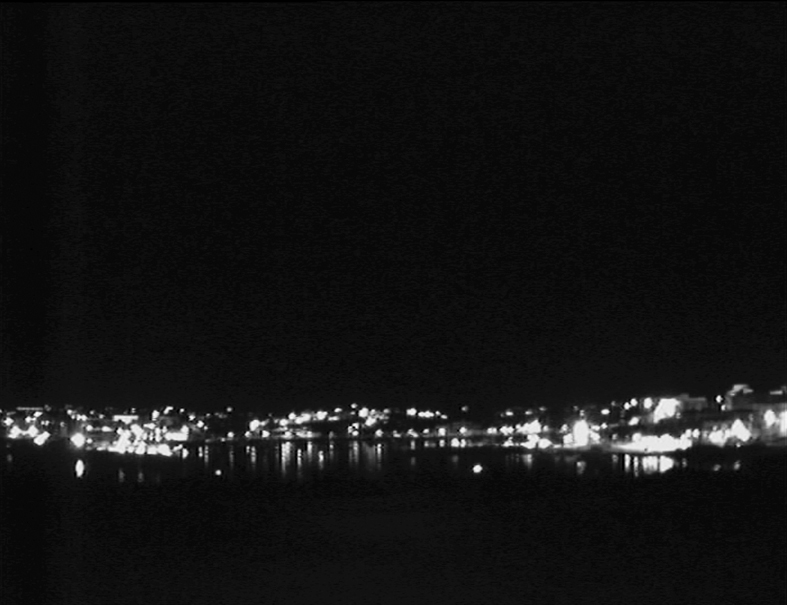 The course of daytime obeying the pace of the sun is an increasing and decreasing identification of things. At noon things coincide with themselves, they reach their complete identity. You can say there's nothing left to guess for, that everything is as it is because seeming and being are one. Though at night, things gain a reserve of meaning in their shadow. Nighttime on the Italian island of Lampedusa is such a moment of disguise.
This handful of rocks situated south of Sicily is the closest European point to the north of the African continent. In origin an island of fishermen, this isolated place has become a holiday resort over the years. Or as the boat rental services on Lampedusa advertise: 'La più bella isola del mondo' (the most beautiful island in the world).
Simultaneously refugees and asylum seekers (clandestini) started crossing the Mediterranean Sea and put their lives at risk in an attempt to reach this European outpost. They would either reach the island on their own, preferably at night to hide from the authorities, or get intercepted at sea and brought to land at night to hide them from the tourists. Also at night relocations take place by plane to refugee centres on the mainland.
nocturne captures the ambiguous and tense atmosphere of nocturnal Lampedusa with the use of a CCTV security camera. It overlooks the island and registers several places on and around it. In the dark, abstract and suggestive anti-images human presence has been reduced to some anonymous, unidentifiable luminous dots, or to the suggestive black space in between.

_

Words on Water - Hinterland Galerie, Vienna (AT), curator Amirali Ghasemi, 2023
La perception du champ social chez Hamza Halloubi, Pieter Geenen, Sonia Niwemahoro - Art'Contest, Art Brussels, Brussels (BE), 2014
Dark Meeting - The Big Draw, Darkroom, Ghent (BE), 2013
La più bella isola del mondo - Provinciaal Domein Dommelhof, Neerpelt (BE), 2013
Blijven Kijken / Ce qui nous regarde / Dropouts - M - Museum Leuven, Leuven (BE), curator Pieter Van Bogaert, 2013
RE:Converse #01 - Carbon Prints - Manifesta 9 Parallel Events, be-Mine, Beringen (BE), 2012
Pieter Geenen - Winner Art'Contest 2011 - Museum of Ixelles, Brussels (BE), 2012
FREESTATE - Splendid Isolation (Young Belgian Art) - Oosteroever, Oostende (BE), 2011
Video Hall - Art Rotterdam, Annie Gentils Gallery, Rotterdam (NL), 2011
Black Outs - The Eclipse of the Image as a Strategy for Visibility / Open Archive #2 - ARGOS Centre for Art & Media, Brussels (BE), 2010
Manières Noires / Black Outs - BAM (Beaux-Arts Mons), Mons (BE), 2010 - 2011
Mèdit Art - Mèdit Festival de cinema mediterrani de ciutadella de Menorca, Menorca (ES), curator Alexandra Laudo, 2010
Europe's Antivirus System - In/visibilities of Borders and Migration in Film - arttransponder, Berlin (DE), 2010
(Out of) Control - 7th International Biennial of Photography and Visual Arts, Liège (BE), 2010
Shot by Both Sides - Pieter Geenen & Johan Grimonprez - bkSM #8, cc Strombeek / De Garage Mechelen (BE), 2009
An evening with Auguste Orts #6: Some particular things (in a landscape) - Beursschouwburg, Brussels (BE), 2009
Horizon - Azad Art Gallery, Tehran (IR), curator Michel Dewilde, 2009
All Art Now - 1st International Video Art Festival, Damascus (SY), 2009
Arnoevoo - Staf Versluyscentrum, Bredene (BE), 2008
Blind Date. Sound & Vision in Private - Actionfields Temporary Art Gallery, Brussels (BE), 2008
No Place - like Home. Perspectives on Migration in Europe - ARGOS Centre for Art & Media, Brussels (BE), curator Paul Willemsen, 2008
Blurring the Terrain or Landscape as a Verb - International Shorts Program, 21st Images Festival, Toronto (CA), 2008
Prix Médiatine - La Médiatine, Brussels (BE), 2008
Error #8: Project(OR) - errorOne / MAMA: showroom for media and moving art, Art Rotterdam, Rotterdam (NL), 2008
Input/Output - De Bond, Bruges (BE), 2007
Fortis Young Ones Award - Lineart, Flanders Expo, Ghent (BE), 2007
Videovenster - Visualantics, Antwerp (BE), 2007
Re:collections, Acquisitions 2005-2007 - Open Archive #1 - ARGOS Centre for Art & Media, Brussels (BE), 2007
Error #7: Just a Movie for Godsake - errorOne, Antwerp (BE), 2007
Encounters - Stadsgalerij, Heerlen (NL), curator Femke Lutgerink, 2007
Picture Industries II - ACU, Utrecht (NL), 2007
Black Box - Courtisane Festival, Ghent (BE), 2007
Kino Eye #7: Evacuation - MuHKA_media, Antwerp (BE), curators Herman Asselberghs & Edwin Carels, 2007
Eclipse - Exploding Cinema - 36th International Filmfestival (IFFR), Rotterdam (NL), curator Edwin Carels, 2007
Sehnsucht inc. - Alden Biesen, Bilzen (BE), 2006
_

Flemish Community Collection, Mu.ZEE, Ostend (BE)